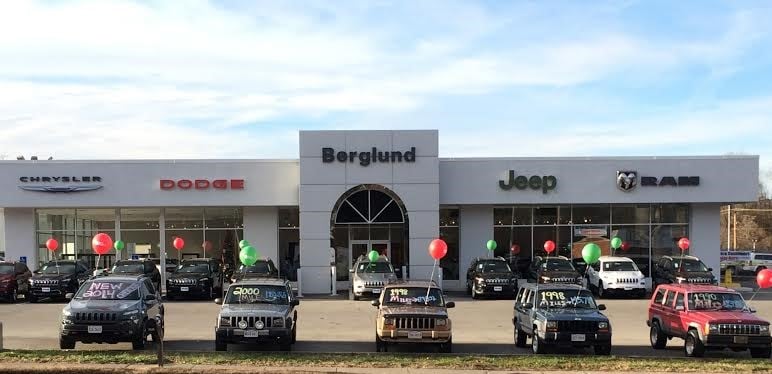 More Than a New and Used Car Dealer in Roanoke, VA
Located at
2525 Franklin Road

,

Berglund Chrysler Jeep Dodge RAM

is your full-service new Chrysler, Jeep, Dodge
and
used car
dealer in Roanoke, VA that provides customers with a great price and excellent customer service every time. We are home to all the newest Chrysler, Jeep and Dodge vehicles, high-quality used vehicles,
streamlined financing
, lightning-fast vehicle service, premium 
parts and accessories
and more. We also pride ourselves in providing customers with many extras while you're shopping or having your vehicle serviced!
Our expansive new car inventory in
Roanoke

,

VA

allows us to keep high-demand models
 in stock for customers to test-drive and compare the various trims. Our inventory includes the new
Jeep Grand Cherokee
,
Jeep Renegade
, and more! However, it is not just limited to the four majors in our company's name! Our pre-owned inventory is full of various makes and models from BMW, Buick, Cadillac, Chevrolet, Dodge, Ford and more! We truly are your one-stop shop for car buying.
Berglund Chrysler Jeep Dodge RAM has revolutionized the car buying process. Our sales staff is not only personable and honest, but extremely knowledgeable. You'll get quick answers to your questions, so you won't spend all day on the lot like most car dealers in the Roanoke, VA area. Plus, our
Financing Department
  can
pre-qualify you
before even getting on to the lot, making everything more streamlined. We truly care about customers; they are the reason we are still in business. That's why we are committed to making sure to be here for you before, during and after the sale. We want more than a customer. We want to foster relationships with customers and be their (and their friends and family's) go-to place for everything automobile related in the Roanoke, Washington D.C, Richmond, Charlottesville, Salem, Christiansburg, Blacksburg, Rocky Mount and Lynchburg area.


The Farrell Family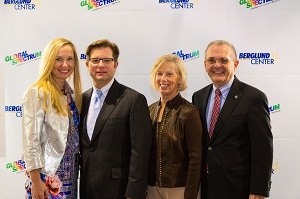 For more than 25 years, the Farrell family have led the Berglund Automotive Group. Since the Farrells took over the company in 1988, the company has been family-owned and operated. It all started when Bruce Farrell came to work for Donald Berglund in 1975. After working his way up from a mechanic to becoming a General Manager, Bruce took over the dealership group after Mr. Berglund passed away. Eventually, Bruce's son William took the lead of the company, becoming the President while his father remained CEO. The Farrell family's hard work and determination have played a major role in the Berglund Automotive Group becoming one of the largest and most successful dealerships in Virginia.
At Berglund Automotive, the focus is always on satisfying the needs of the customer. When you step on a Berglund lot, you will find a showroom full of helpful staff and great deals. With over 10 dealership across the Roanoke and Lynchburg area, you are sure to find a huge variety of vehicles, both new and used. No matter which dealership you find yourself at, you can rest easy knowing a professional salesman will help you find the perfect vehicle. And best of all, you know you will be getting the best price around, since our volume saves you money.