Jeep Wrangler: Adventure Awaits
Ready for the ultimate adventure? Searching for that off-road experience like no other? Since WWII, the Jeep has represented a call to action. It's time for you to have your own adventure! The Jeep Wrangler is an amazing choice for all of your off-road adventures. Taking a camping trip with your friends? Picture yourself driving through the Blue Ridge mountains, smelling the fresh air and taking in the scenery. The Wrangler can not only take you there, it can give you a whole new experience!
Whether you're looking for an off-road adventure with friends or needing a spacious vehicle to haul your family, the Jeep Wrangler is an excellent choice. Throughout the years, the Jeep Wrangler has remained strong and dependable.
Ready for adventure? Contact us today to learn more about how to secure this iconic vehicle!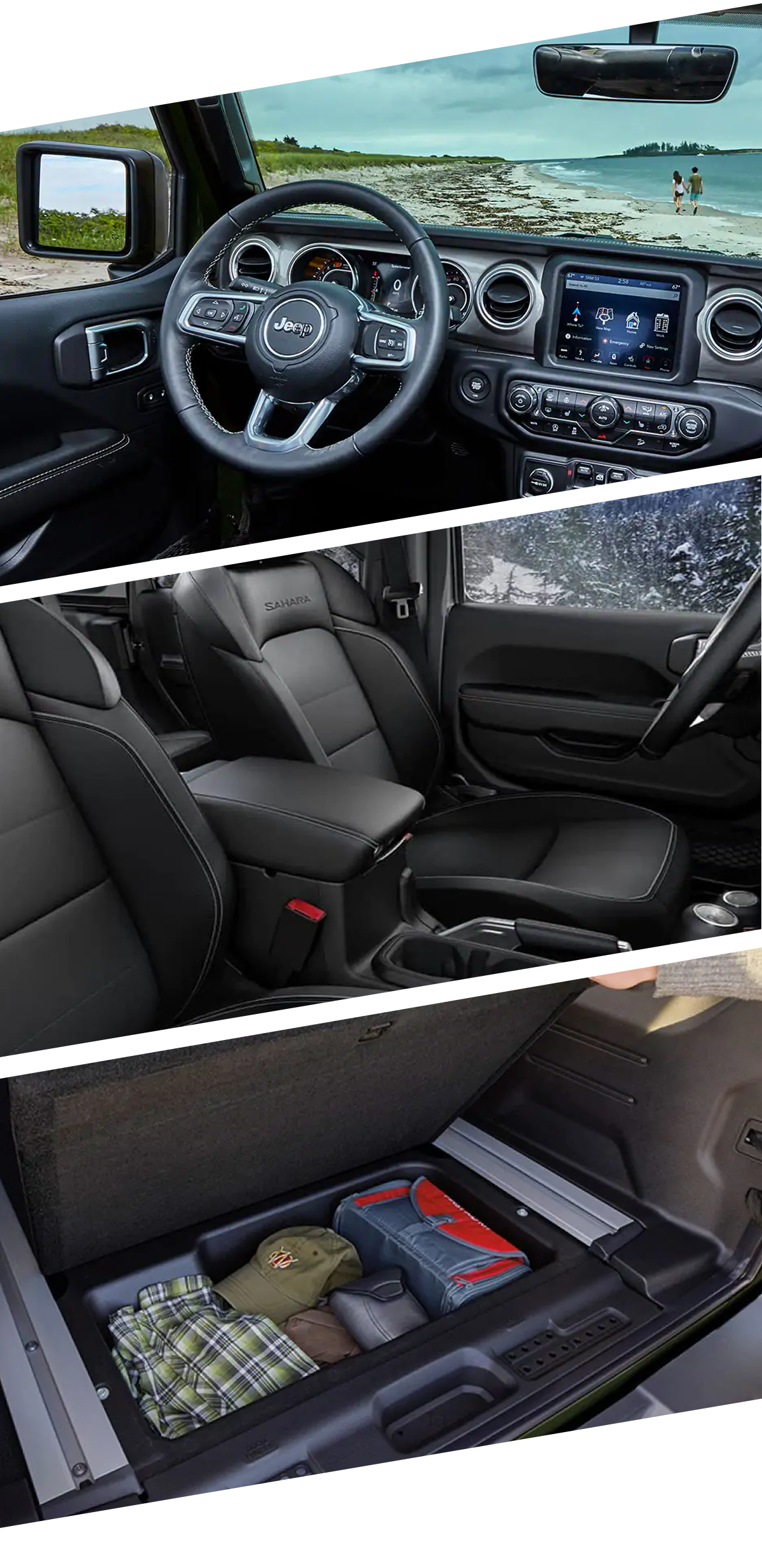 The New 2021 Jeep Wrangler
2021 marks 80 years of the iconic and beloved Jeep Wrangler, and to celebrate, Jeep has unveiled several new limited edition trims for the occasion. These special editions include an 80th Anniversary Edition, a Willys Edition, and the Islander Edition. The 80th Anniversary Jeep offers several special features and style upgrades; the Willys Edition has multiple performance upgrades including 32-inch Firestone Destination mud-terrain tires, rock rails, a limited-slip rear differential, LED lighting, and more; and the Islander Edition has a tropical exterior style with a "Jeep Tiki" hood decal.
Another exciting update for the 2021 model year is the debut of the Wrangler 4xe, a new plug-in hybrid powertrain for the Wrangler. The 4xe can get 25 miles of electric-only power, which is plenty for several hours of low-speed off-road adventuring. This hybrid system has a hearty 375 horsepower to wager on all of your off-road adventures.
The Jeep Wrangler: An Important History
The iconic Jeep Wrangler symbolizes victory and achievement. It was a perfect addition to America's war arsenal during WWII. The foundation upon which the Jeep world was built starts with the original Willys Jeep. It arrived 46 years before the Wrangler. After the war, Willys trademarked the Jeep name and reconfigured the vehicle for civilian use.
A popular CJ series kicked off in 1945 and lasted until 1985. Jeep did away with the CJ line and in 1987, brought a more modern approach - the Wrangler YJ. After a successful run, the Wrangler YJ was replaced with the Wrangler TJ in 1997. In 2007, the third generation Wrangler, the Wrangler JK, arrived. Beginning in 2017, the fourth generation debuted. Known as the Wrangler JL, this new Wrangler offers many more features, but still remains to keep the same popular style that made people fall in love with it in the first place.
Where to Find the Jeep Wrangler that Meets Your Needs
Call, email, or visit Berglund Chrysler Jeep Dodge RAM today! Our dealership offers a large selection of both new and used cars - including the Jeep Wrangler! At our dealership, we know each customer is different, so we're sure to stock our inventory with a wide variety of vehicles to suit everyone's needs.
Deals, deals, and more deals! We also offer numerous specials including new vehicle specials and used car specials! Customers can also take advantage of our Berglund New Bargains and Berglund Used Bargains. Don't miss out on these great savings!
We understand that proper maintenance is a must a vehicle. At our Roanoke dealership, we have a service center, as well as offer a variety of service and parts specials. We take care of our customers and want them to feel safe in their new vehicle!
Stop by and see us today! Our associates are ready to help answer any questions you may have! We pride ourselves on excellent customer service! We are conveniently located at 2525 Franklin Rd SW Roanoke, VA 24014. Residents in Lynchburg, Blacksburg, and Roanoke can all agree: We are here to meet your needs and offer amazing deals on the cars you love!